Home batteries and other means of home power backup, such as generators, are an excellent option for homeowners who deal with frequent power outages and blackouts, or are billed at a higher rate for power used at certain times of day. These devices allow homeowners to store energy produced by their solar panels and use it at a later time, typically either when the grid is down or when panels aren't producing power.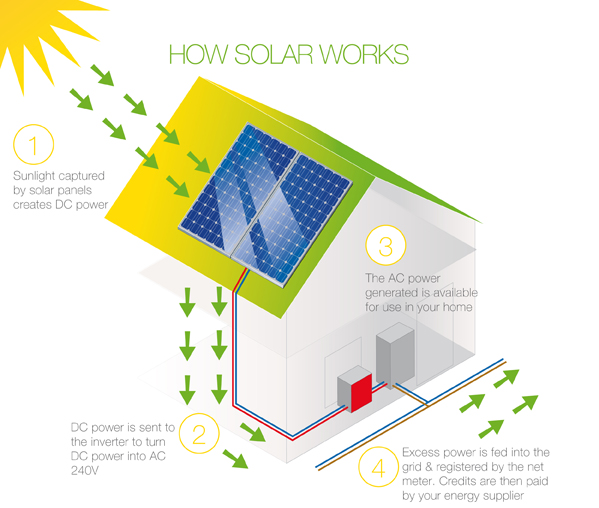 Home batteries are a great way to store the energy generated by your solar panels to use strategically, either when your panels aren't producing power, during a grid outage, or when your utility charges higher rates. Home batteries are charged with energy produced by solar panels, and can be discharged later to power your home. 
Home batteries have sophisticated discharge management capability, which allows homeowners to set preferences for the times and circumstances in which to use stored energy, and the devices and appliances to power in those circumstances. 
Solar panels convert photons into DC energy.
Photons from solar radiation collide with PV cells on solar panels, knocking loose electrons that form a DC electrical current.
Inverter converts DC energy into usable AC power.
The inverter takes the DC current generated by solar panels and converts it to AC power, which is usable in the home.
Excess production is stored or passed back to the grid.
Excess power can either be sent back onto the grid (which usually generates credits through net metering) or stored in a battery.
WHY INSTALL A HOME BATTERY?
STORE ENERGY FOR LATER USE
A home battery allows you to store energy produced by your solar panels for use at night, on cloudy days, and at other times when your panels aren't producing power.                 
Storing energy in a home battery keeps you prepared for power outages and blackouts. Many solar systems are also capable of recharging batteries while the grid is down, ensuring power during extended outages
LOWER YOUR ELECTRICITY BILLS
Home batteries are a great way to manage energy usage by time of day – ideal for energy billing structures that charge a premium during specific time windows.
Battery systems can also be set to supply power to certain high-usage appliances and devices, minimizing extra charges under demand charge billing structures.   
Off-Grid Back-up Solution
An off-grid system is not connected to the electricity grid and therefore requires battery storage. An off-grid solar system must be designed appropriately so that it will generate enough power throughout the year and have enough battery capacity to meet the home's requirements, even in the depths of winter when there is less sunlight. The high cost of batteries and inverters means off-grid systems are much more expensive than on-grid systems and so are usually only needed in more remote areas that are far from the electricity grid. However battery costs are reducing rapidly, so there is now growing market for off-grid solar battery systems even in cities and town
Hybrid solar systems combines the best from grid-tie and off-grid solar systems. These systems can either be described as off-grid solar with utility backup power, or grid-tie solar with extra battery storage.
WHAT TO LOOK FOR IN A HOME BATTERY
Capacity
The first factor to consider in a home battery is the storage capacity. Is your goal partial home backup or whole home backup? How much energy do you consume? These considerations will help you determine your ideal capacity.
Manufacturer's Warranty
Evaluate the length and coverage of the manufacturer's warranty for any home battery you consider. Most reputable brands offer a 10 year manufacturer's warranty against defects and malfunctions.
Compatibility
If you already have a solar installation, ensure your home battery is compatible with your panels and inverter. Know whether or not your battery system will be capable of charging while the grid is down.
NEED HELP FINDING THE RIGHT Home Battery
Our team of expert energy consultants is ready to help you evaluate and find your ideal panel
See for yourself why homeowners rave about there RVRE Experience
Our Solar Installer team was highly knowledgeable and personable. This is a very good company that is working from some time. I was very impressed with 25 years warranty, the precision of proposal and immediate availability of RVRE team. Also their prices were very competitive. I strongly recommend them.
Get A Customized Quote From The Most Transparent Pricing In The Industry.
See for yourself why homeowners rave about there RVRE Experience
I had very positive experience working with RVRE Team. Having a busy schedule I have limited availability but they made themselves available at times when I could speak with them and there system is so automated that every morning I get the status of project updated on my WhatsApp till last evening. So I was peaceful and calm with my Solar installation
Get A Customized Quote From The Most Transparent Pricing In The Industry.
See for yourself why homeowners rave about there RVRE Experience
We had installed our Solar Plant with RE Renewable Energy Private Limited in 2019. I appreciate their system of explaining each and every thing before the process start. Since we are not much aware of working of solar, solar products, Solar generation etc. But RVRE team explained each and every thing in details. Their products supplied to us are very good and as per specifications. We are not having any issue till now. We are very much satisfied with Solar generation and saving in electricity bill we are getting month on month. We thanks RVRE team for their good work and quality of services and products they are supplying
Get A Customized Quote From The Most Transparent Pricing In The Industry.
How much should I pay for a home battery?
The right price to pay for solar panels is different for every homeowner, and depends on a number of factors. Determining the right price starts with an evaluation of energy usage and billing structure, which will help determine the ideal strategy and capacity to design the battery system for. The next consideration is whether to design for partial- or whole-home backup. 
This thought process will allow you to identify the home backup solution that makes the most sense for you.
EVALUATE ENERGY USAGE
DETERMINE SYSTEM CAPACITY
EVALUATE ROOF
SPACE
CHOOSE
PANELS & BATTERIES
CALL OUR TEAM
Our expert energy consultants are standing by, ready to answer your questions and help you understand the details of going solar.
BOOK NOW
Find a time that fits your schedule and book an appointment with one of our expert energy consultants.
GET OUR BUYING GUIDE
Everything you need to know about shopping for solar – the questions to ask, the factors to consider, and much more. Download it here